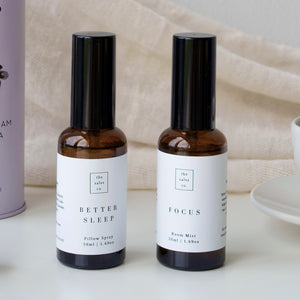 Sample 2 of our bestselling all-natural sprays and mists, blended only from the finest therapeutic grade essential oils. Free from artificial fragrances - whether it's good night's sleep you need, or some calm and focus in the middle of your workday - we've got you covered! 
Better Sleep Pillow Spray (50 ml): Serenity awaits with this warm and aromatic scent, crafted to calm a busy mind for improved sleep. 
Focus Room Mist (50ml): Instantly refresh your atmosphere with this bright citrusy mist, to centre you in a state of alertness and focus.