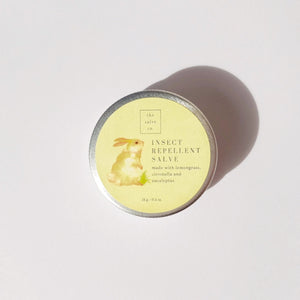 Our all natural and non-toxic insect repellent salve is gentle on skin yet highly
effective – yet completely DEET free. Made with the absolute finest natural
ingredients, you can use this on your little one's skin with total peace of mind.

Infused with 100% pure therapeutic Citronella, Lemongrass and Eucalyptus essential oils, its warm, citrusy aroma is pleasant to humans but naturally repels annoying bugs, keeping kids's skin bite free. An indispensable item for days out with your little
bubs!
  Aroma  Warm, Citrus, Minty.

  Ingredients  
Pure therapeutic grade Lemongrass, Peppermint, Citronella, Lavender essential oils, infused in a nourishing shea butter, olive oil and beeswax base. Formulated from 100% natural ingredients only. 
  Directions for use  For Babies above the age of 6 months only. Repellency is based on scent, reapply generously and often. Do perform a patch test before application. If any irritation occurs, discontinue use immediately. Please store in a cool dry place. For more care tips on applying our salves, please refer to our FAQ page.
Size: 15g/ 0.5oz